First Latvian championship of 2019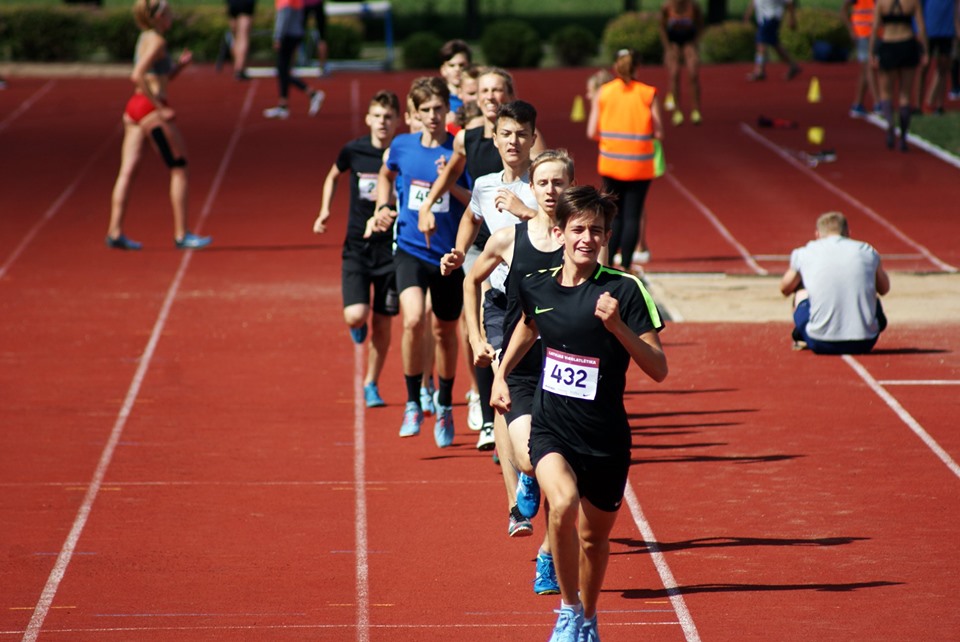 In the city of Jēkabpils on June 22nd occured Latvian championship for U18 and U20 athletes, with one Ašais athlete in each age group. After skipping previous season due to an injury, Kārlis Dieviņš(U18) is back on track. He's achieved yet another PB taking off a second to his previous record, though only 12th among his peers(of 23). The most important thing is that progress in undeniable. That is motivating. Unfortunately, not such a great race for Artis Rožkalns(U20). Experimenting with the training programme has not resulted the way we hoped, because this season Artis has not managed to get even close to his PB that was set last season. This time 5th place (of 10 athletes). However, in latvian there is a saying - NEKAD NEPADODIES! Next week U16 Ašais athletes will set their feet on the start line in various distances. Photos - here!

Finland adventure - GOLD, BRONZE & 5xPB!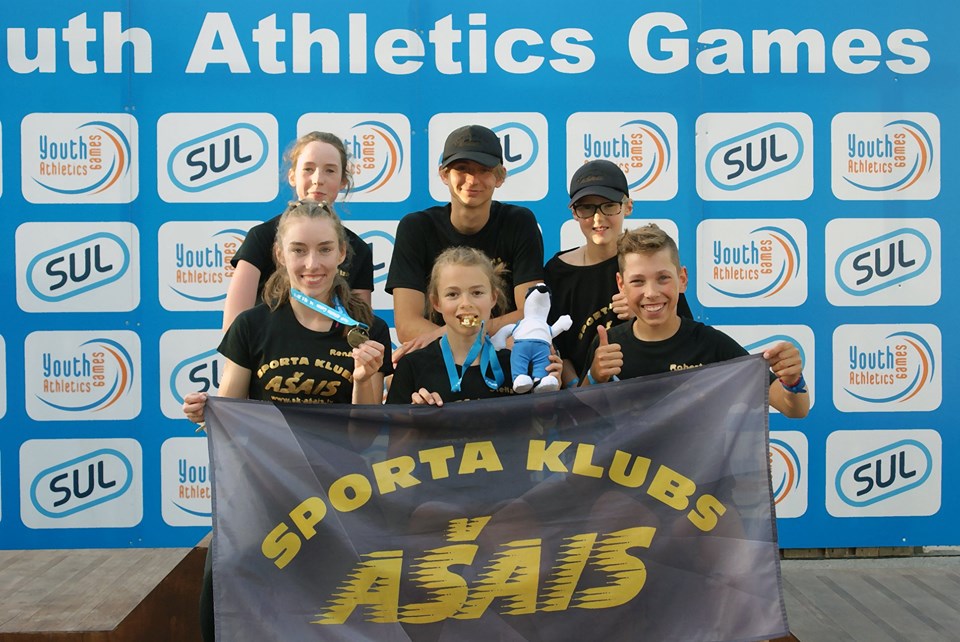 An excellent adevnture once again. In the exact middle of June Ašais athletes went on a journey to Finland - the land of a thousand lakes - to participate in a huge athletics competition "YOUTH ATHLETICS GAMES" in the town of Lahti. On the first race day (actually the second) two of our athletes set off in the sprint distances, but Kārlis Dieviņš started in his first international 800m competition. If Renāte Beļājeva and Stella Paltiņā blazed across the track sprinting without high ambitions, then Kārlis Dieviņš managed to set a new PB in 800m (2:09;19) and be 11th of the 22 participants.
Maximas' Cup with 2 pedestals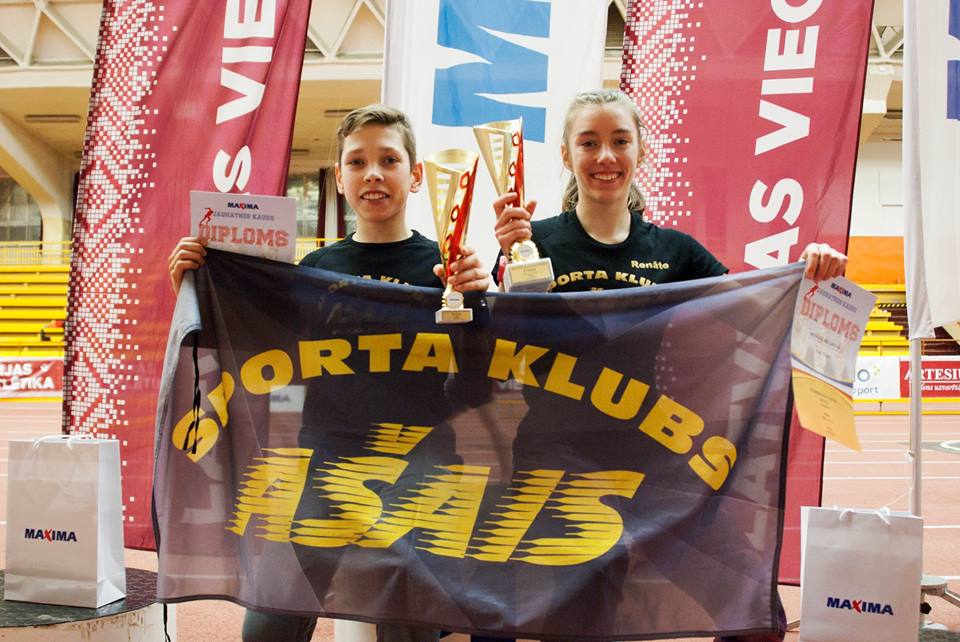 February 10th and actually the whole weekend turned out to be the Olimpics for our athletes! The crazy weekend came to an end with the start our U16 runners winning 2 and 1/2 pedestals. Why 2 and a half? It will be explained shortly, but first - 1000m! For the very first time in her life, Elza Niklase set a foot in the 1000m distance, in which every breath taken was a new adventure in the world of athletics. Fighting fearlessly and winning her heat, Elza "stopped" for 1/2 a second before the pedestal in the two run overall score. An excellent performance also in the mid-distance was for Roberts Glazers being 3rd abong his giant rivals. It's clear that runnning with these giants, that it's work not only with the muscles, but with the mind too!
Sprinting towards medals in multiatlon race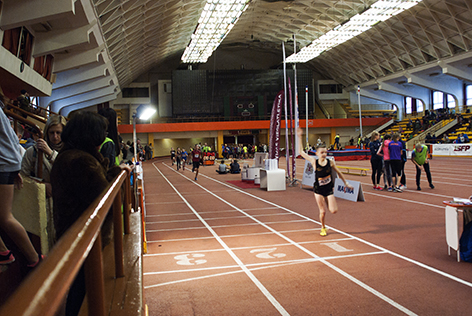 From one Queens'(athletics) ball to the next, Ašais runners continue pushing their limits in Maximas' youngster multiathlon for U14. To tell the truth, it was more of a sprint multiathlon, but that is nothing ;D. We can sprint too! Idea of the race is quite simple - you had to compete in 60m, 200m sprint and long jump from place. The colossal amout of participants further increased the heat. Very well performed Ričards Špacs, getting 5th both in 60m and 200m sprint of 100 athletes. Long jump from place wrecked a little the overall score, but despite it, Ričards 8th overall. First time competing in multiathlon, Roberts Cercins 29th overall. The very same race for U16 will be in the evening.
Artis' Rožkalns' U20 championship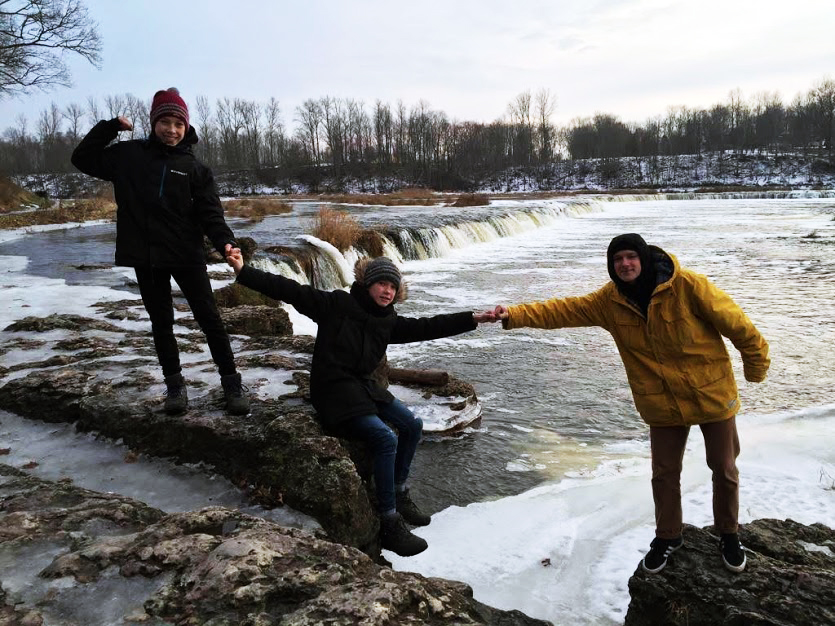 With the start in Latvian U20 championship in Kuldiga, Ašais athletes continue indoor season 2019. Artis Rožkalns sets his feet on the start line of 800m. In a very high-powered junior competition of 21 athlete. This time 5th with a result of 2:00,39. Result's appropriate for this winter. His PB improved by 4 seconds and he's place higher. For the winter conditions it's alright. Next up from the indoor championships - powerful U16 race. It's going to be fun!
Ričards Špacs - Latvian indoor champion U14!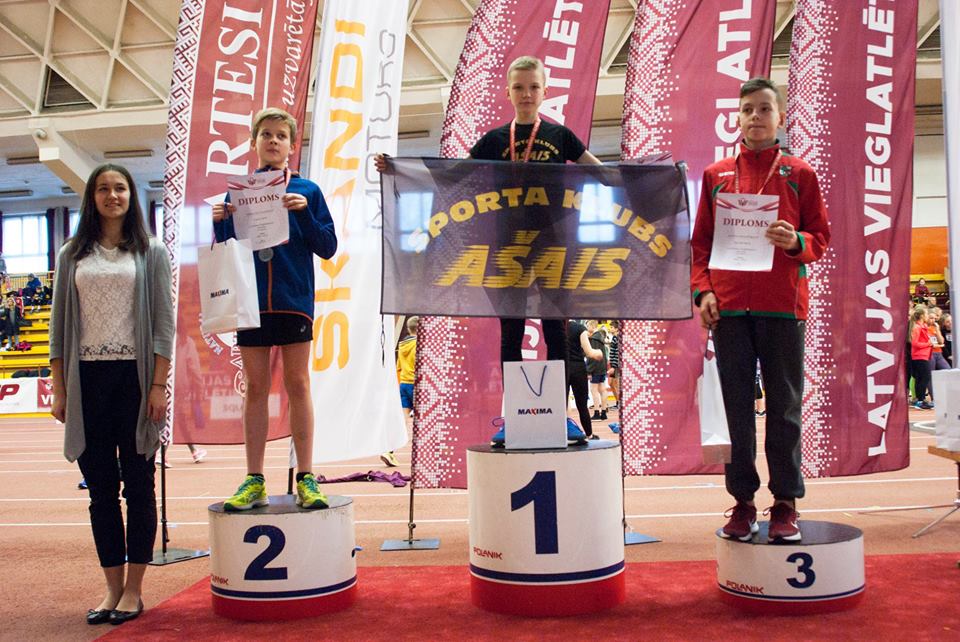 On February 3rd to the captial traveled the best latvian U14 athletes (born in 2006.-2007.), who proved themselves in selection competitions in their respective regions. We are truly happy, that in his second indoor championship, he managed to be the best among his peers running at a golden speed and earning the fastest middle-distance title, we are talking about none other than Ričrds Dāvis Špacs!!! We are proud and happy for his perseverance and fighting power! Roberts Cercins and Dāvis Mežals got the taste of Latvian championship for the first time. Hopefully their hooked on running even more! Their first time participating - respectivly 11th and 12th of 22 participants. A beautiful weekend! Photos - here!
61+103=45! Year book 2018 closed!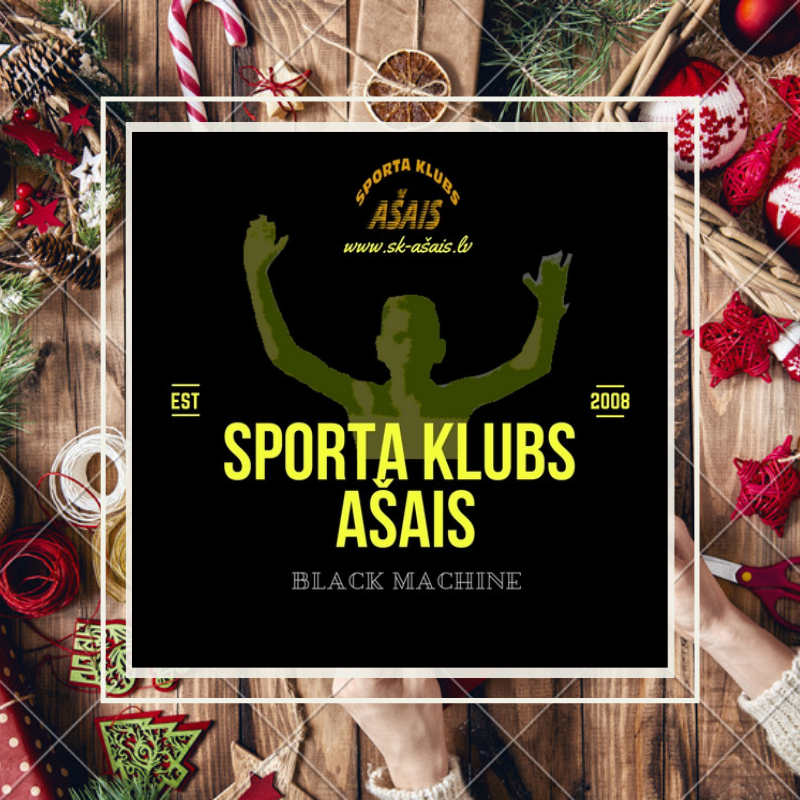 2018 for SC Ašais has had 61 event (the really small ones we don't count) and 103 medals obtained in 2018. There is nothing better than to come to the conclusion that the year has been amazing! Artis Rožkalns explosive season, many many club records, the first convincing SUB2 800m run. Roberts Glazers first excellent 1500m with a golden medal and super-prerecord. Renātes' Beļājevas' flights in 400m on the level of National team candidates. Gothenburg, Suwałki, Saaremaa, Estonia and Lithuania! 8th spring in the mountains! Unforgetable! Years has been very golden, because a new gold pedestal record has been in the history of this club - 45 gold pedestals. The years was finished with a bang! We celebrated the 10th anniversary of SC Ašais in "Pļavas". Thank you, to everyone who helped us have this amazing year! 2019 is right around the corner! We shall see what it has to offer!
The curse of Tartu manege - broken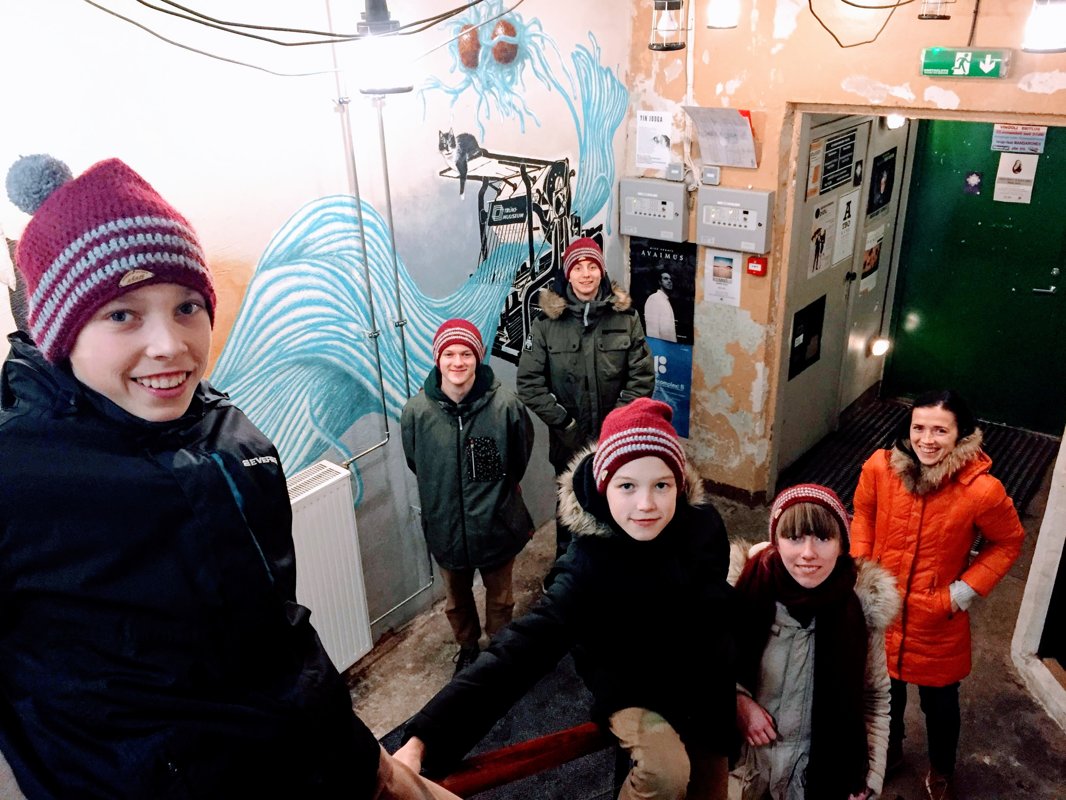 It seems that the carousel of competitions in 2018, has stopped spinning with Ašais runners participating in Tartu manege. Last few Decembers, whilst participating in these races, we've been in some sort of curse, but now the curse has been broken. Gold and bronze medals are now ours, as well as new PRs, and a new club record. Despite the lack of rivals, which vitaly is needed in 800m for a good result, Artis Rožkalns convincingly won with a new PR/CR and with only 0.03 seconds to "under 2" - 2:00.03! Excellent PR [overall] and a bronze medal running with one year older rivals - Roberts Glazers 800m = 2:12,36!!! A spontaneous descision to let him run with U16 runners resulted in a new PR also for Ričards Špacs - 2:29,41! Also a PR and 5th place in 800m for Renāte Beļājeva. A step closer to a good form and 4th place in U18 for Kārlis Dieviņš. Evening continued positively with the streets of Tartu. Photos - here!